The future is now!
COGNITIVE TRAINING:

The latest success factor in football!

Develop the new generation of two-footed, creative, polyvalent players through hundreds of systematically designed exercises and make your team play with even higher tactical variability!
Why
cognitive

training?

Cognitive training is the success factor for making the game faster and, above all, more innovative and creative. Prerequisite: The brain of the football player must be systematically trained!

Our "COGNIGOALS Deep Learning" method promotes the targeted development of the networking between the eyes, brain, and body of our players. It trains the interactive control between body and mind. Remember: You can only actively influence the game when you have all of this under control and well-synchronized!

Two-footedness
The foundation. Dazzling dribbles, high-quality one-touch passes and accurate shots - with both feet!
Game intelligence
Can your players really read the game? It's all a question of mental capacity and speed!
Creativity
Finding just one solution isn't enough! All players must come up with multiple, innovative and surprising solutions, and do so under the highest levels of decision-making pressure!

Your expert:
Matthias Nowak
Former Bayern Munich technical and creative coach Matthias Nowak is renowned as one of the world's leading experts in cognitive training for football. He has accumulated over 20 years of experience in this field, and is now sharing his knowledge with coaches across the world.
Inventor of the "Deep Learning" method
20-year background in the field of cognitive development for sports
Former FC Bayern Munich technical and creative coach
German champion (2015, 2016) and cup winner (2012) with the Bundesliga women. German champion with the U17 (2013, 2015, 2016) - also thanks to his cognitive coaching expertise!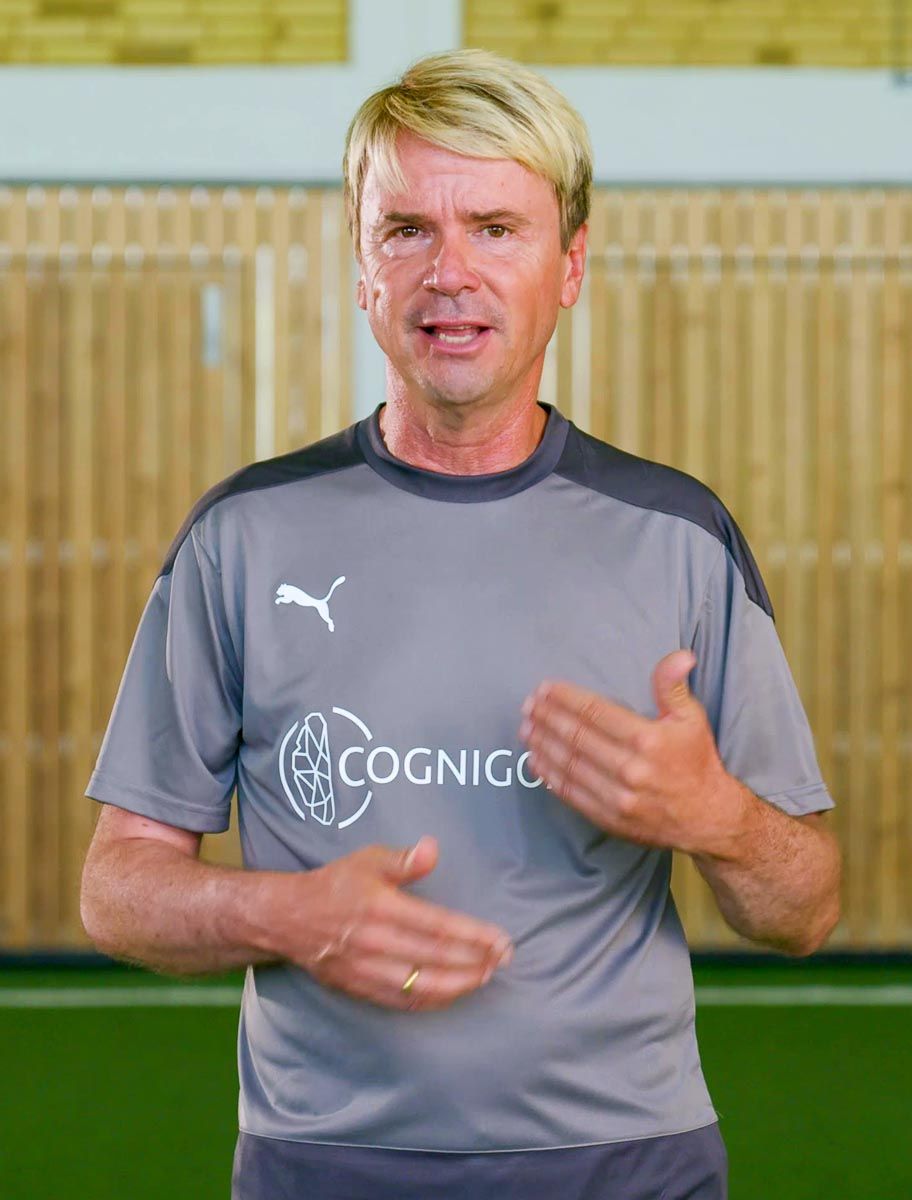 Coach education
Has inspired coaches in countless workshops all over the world.
We explain each exercise so you can
comprehend
it
and
teach
it to your players!
With interactive videos in 4k | With slow-motion videos and multiple perspectives | With detailed exercise descriptions | With coaching-videos | With scientific explanations | With subtitles and transcripts | With Matthias Nowak and Felix Lehmann
Cognitive training
that

works

!
The world's first certified program for coaches in cognitive football training
An interactive, high-quality video learning platform
The science behind it all
Hundreds of exclusive exercises with special coaching tips
Quizzes and Certifications
Mobile Apps for iOS and Android
My goal in my career is to make it to the highest level: playing Champions League games for a club and representing either Mexico or USA. On that journey, the COGNIGOALS training has helped me recognize situations better and adapt on and off the field much faster and more effectively."
Nico Carrera
, Holstein Kiel
"Matthias Nowak has a creative and visionary approach to soccer skills development; his training has helped me to develop into a much more complete player; incorporating Matthias' dynamic style and his effective and modern training systems into your own training is a highly beneficial tool for any coach to have."
Gina Lewandowski, Former Pro player (USWNT, FC Bayern Munich, FFC Frankfurt, NJ/NY Gotham FC)
#Executive functions | #Comfort zone | #Laterality | #Cognitive Add-ons |
#Inhibition |
#Multitasking | #Transfer effects | #Polyvalence | #Two-footedness | #Game intelligence | #Working memory |
We turn you into an expert - learn and apply the key concepts of cognitive training through our courses!
Free sneak peek exercises available!
Want to preview some select course content before buying? Easy - just register for a free account on our website!